Rosemary Chu-Shen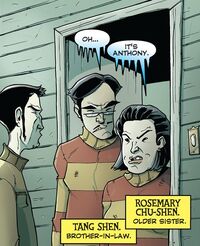 Real Name
Rosemary Chu-Shen
Relatives
Tang Shen
(Husband),
Chip Chu-Shen (Son),
Bree Chu-Shen (Daughter),
Anthony Chu (Younger Brother),
Antonelle Chu (Younger Sister),
Chow Chu (Brother),
Saffron Chu (Sister),
Sage Chu (Younger Sister),
Harold Chu (Younger Brother),
Bao Chu (Mother),
Bok Chu (Father - Deceased),
Ong Chu (Grandfather),
Amelia Mintz (Sister-in-law),
Mindy Tso-Chu (Sister-in-law - Deceased),
Olive Chu (Niece),

Charlie Chu
(Distant Cousin)
Characteristics
Status
Origin
Rosemary Chu-Shen is the legal guardian of Olive Chu.[1]
When Olive didn't return home one day, Rosemary alerted her father, Tony.[2] Olive had been abducted by Mason Savoy and was being trained to become a great warrior.[3] Olive's test scores suffered from the lack of concentration. However, she soon started using her Cibopathy to help increase her performance in school and Rosemary became happy with her once again.[4]

Appearances, Images, and Quotes Edit
ReferencesEdit
Community content is available under
CC-BY-SA
unless otherwise noted.