Roman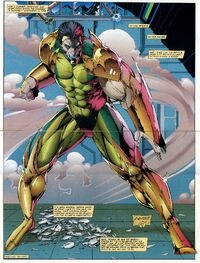 Relatives
Lamprey (nephew)
Base Of Operations
Neuport
Characteristics
Unusual Features
Pointy ears
Status
Occupation
Adventurer, prince
Roman is the ruler of the Atlantean city of Neuport. He was a member of both the Allies and Brigade.
He made his first appearance during WW2 where with the likes of Supreme and Glory founded the Allies to oppose Hitler and was responsible for the induction in the team of Battlestone but left the team when his relationship with Superpatriot started to deteriorate.
After that he returned to Neuport to lead his people but was forced to return to the surface world and ask for help to his former protégé Battlestone when Warlok tried to take control of the city with technology.
Later he rejoined the Allies to rescue a group of heroes kidnapped in the sixties by the evil Optilux.
Character Powers and Equipment
Powers and AbilitiesEdit
Powers
Superhuman Strength: Roman possesses great levels of strength, he was able to overpower the superhumanly strong Seahawk and Coldsnap without much effort and by slamming his fists together he can create powerful shockwaves.
Superhuman Durability: Roman is far more durable than the common human and even most Atlanteans, bullets can't pierce his skin, he can survive great impact forces and energy blasts with only little damage.
Superhuman Speed: Roman can move far faster than the fittest human athlete both on land and under water.
Sonar Sense: Roman possesses a form of echolocation similar to those of bats and dolphins.
Telepathy: Roman possesses some degree of telepathy and can read other people's thoughts and perform mental scans.
Decelerated Aging: Roman does not seem to have aged since WW2.
Abilities
Leadership: Roman successfully rules over the city of Neuport.
Weaknesses
Water Deprivation: Despite being incredibly powerful even on mainland, Roman can use his powers to the maximum only under water.
Appearances, Images, and Quotes Edit
ReferencesEdit
Community content is available under
CC-BY-SA
unless otherwise noted.