Hatchet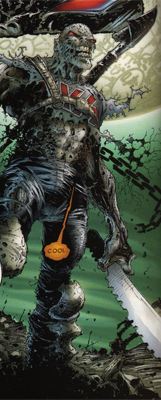 Relatives
Mrs. Hatchett (mother),
Pete Hatchett (brother),

Jasmine Hatchett (sister)
Characteristics
Status
Origin
Ryan Hatchett attempted to kill suicide due to depression. He was facing issues with his girlfriend Suzette and several school bullies. When he leaped off a bridge, he was struck with lightning and transported to an alley.
He was attacked by several zombies and slowly began transforming into a zombie himself. He sought revenge against Zombie Spawn and saved his girlfriend, Suzette, from peril at Zombie Spawn's hands.[1]
Character Powers and Equipment
Powers and AbilitiesEdit
Powers
Appearances, Images, and Quotes Edit
Quotations by or about Ryan Hatchett
ReferencesEdit