King S'Nok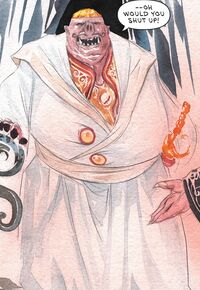 Characteristics
Status
Origin
First appearance
Appearance of Death
King S'Nok was the leader of the Gnishians. He ordered the great cull of robots after the Harvester attack.
When Tim and Jin Quon were captured, he ordered the interrogation of Jin Quon as he was well known to be the father of robotics. S'Nok wanted him to reveal his secrets of the Harvesters. When Jin's arm was cut off, he squealed and finally admitted that he was a fraud and stole his research.[1] When they were suddenly attacked by a rogue group of Hardwire, a separatist robot rebellion, King S'Nok was murdered by Tim-22 as a symbol of the rebellion.[2]

Appearances, Images, and Quotes Edit
ReferencesEdit
Community content is available under
CC-BY-SA
unless otherwise noted.