Sage Chu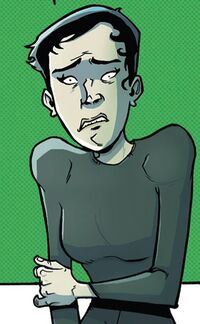 Relatives
Tony Chu
(Older Brother),
Antonelle Chu (Deceased Older Sister),
Chow Chu (Older Brother),
Olive Chu (Niece),
Ong Chu (Grandfather),
Bao Chu (Mother),
Bok Chu (Father-Deceased),
Tang Shen (Brother-In-Law),
Rosemary Chu-Shen (Older Sister),
Chip Chu-Shen (Nephew),
Bree Chu-Shen (Niece),
Harold Chu (Younger Brother),

Charlie Chu
(Distant Cousin)
Characteristics
Status
Origin
Sage Chu used her Cipropanthropatic powers to discover mob boss Federico Biscotti at a restaurant. Calling up on the help of her older sister, Antonelle Chu, she brought him down.[1]
Character Powers and Equipment
Powers and AbilitiesEdit
Powers
Cipropanthropatic: She can have visions of any one person who has eaten the exact same thing as she has.
Appearances, Images, and Quotes Edit
ReferencesEdit
Community content is available under
CC-BY-SA
unless otherwise noted.