Samaritan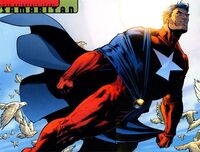 Aliases
Asa Martin; Big Red
Characteristics
Unusual Features
Hair changes color between his secret identity and Samaritan
Origin
Origin
Sent from the future to prevent a catastrophe
Sent back in time to save a dying world through technical assistance of the space shuttle, our heretofore unnamed hero was infused by empryean fire which gave him powers beyond all mortals in a superpowered world. The adjusting to his new senses and powers took so long that he no longer had the time to finesse with saving the day.
Casting the fire into empryean webs he caught the shuttle and saved it from imminant destruction, changing the time stream for the better.
When interviewed about saving the shuttle, he merely said that he was a good samaritan. The name Samaritan stuck.
With his future technology he can select the news as it happens for which events to take care of, whether they be a tidal wave or a cat in a tree. This is quite useful in his alter ego Asa Martin (anagram of a Samaritan)
If Samaritan's time wasn't measured in the fractions of seconds he would like to find love and spend his time flying.
On the one day off that the heroes insisted that he have, he spent it worrying over the news with Winged Victory in a sort of date. Needless to say, the date went fairly poorly as both were distracted the whole time.
Character Powers and Equipment
Powers and AbilitiesEdit
Powers
Energy Manipulation: He can manipulate fields of energy
Dimensional travel: He can travel into alternate dimensions unaided
Appearances, Images, and Quotes Edit
ReferencesEdit
Community content is available under
CC-BY-SA
unless otherwise noted.