Sandorst of Samia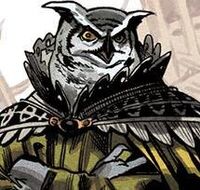 Current Alias
Sandorst of Samia
Aliases
Sandorst the Exalting; Third Councillor of Telm; Barn Owl
Characteristics
Status
Origin
Sandorst was a haughty elitist wizard from Telm, where he held the position of Third Councillor. He was present at the Grand Colluy where Gharta, The Seeker, brought forth the plan to call forth the Great Champion. While he was dismissive of the warthog from the surface, he was interested in taking part in history to bolster his reputation.
He came to Keneil with his daughter Enna to participate in the ritual. It was due to Sandorst's carelessness that resulted in the ritual in draining the magic spells that kept the city of Keneil afloat. Sandorst survived the fall, but immediately tried to place the blame on Gharta for the destruction, however it soon revealed Gharta was indeed successful in retrieving something from the confines of time.[1]
The gentlebeings were unable to see what their endeavors had brought forth. Sandorst was adamant that the wizards only brought a dead corpse. After the Great Champion was released from his crystal sphere, even saving the survivors from the marauding bison, Sandorst still refused to admit that Gharta brought the true Great Champion.[2]
When the Great Champion, also known as Steven T. Learoyd, refused to believe he was in a reality of anthropomorphic animals and magic, Sandorst attempted to use his authority to force the creature to protect them. Leayrod responded with violence brandishing his sword at the owl's throat, visibly scaring the wizard. After Prettyfoot, the traveling merchant came to the ruins of Keneil, he forged an alliance with her to gain a few comforts and strengthen his position.[3]
Character Powers and Equipment
Powers and AbilitiesEdit
Powers
Atmokinesis: According to Gharta he was a premier atmospherics talent, suggesting a skill in weather manipulation.
Appearances, Images, and Quotes Edit
ReferencesEdit
Community content is available under
CC-BY-SA
unless otherwise noted.