Exterminator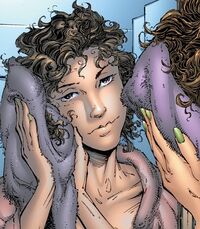 Current Alias
Exterminator
Characteristics
Status
Origin
First appearance
Appearance of Death
Sarah Frost is an OCD-plagued[1] doctor who moonlighted at a help-center for those who have lost their way, Saving Grace.[2]
She became romantically involved with Sam Burke after meeting him at hospital when Twitch Williams was shot. When a string of murders struck New York City bums, Sam and Twitch began investigating further. Twitch made the connection that each of the murders had meet Sarah. At night, Spawn forced bugs on her. Since Sarah was OCD, she poison herself with bug spray.
During the crime scene investigation, Sam Burke uncovered the mark of Serpentine Addendum on her neck. It was soon discovered by Cogliostro that Sarah was under the influence of Billy Kincaid and even though she was innocent in intent, she was damned to hell for the murders she commited anyways.[3]

Appearances, Images, and Quotes Edit
ReferencesEdit
Community content is available under
CC-BY-SA
unless otherwise noted.