Seamus Halloran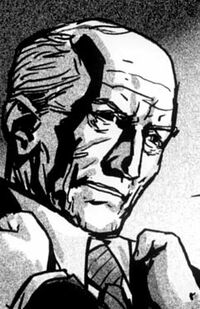 Real Name
Seamus Halloran
Characteristics
Origin
First appearance
Appearance of Death
Seamus Halloran is the rich and powerful father of Senator Sean Halloran.
23 years ago, Seamus Halloran brought Sam Burke into his vehicle and offered Sam $10,000 for his discretion in not speaking to anyone about his son's homosexuality.[1]
In the present, homosexual allegation scandals arose against Sean. Seamus paid Robert Kellerman to murder all of his past lovers. After failing to kill Peter Draven, Sam Burke became involved to save his old roommate.[2]
The next day, Sean was suddenly attacked by his old lover, Peter Draven in his home. When his father disabled Peter and ordered Sean to shoot him, Sean stalled. He was continually pushed and began to realize that his past lovers were recently murdered by his father's orders. When his father called him a faggot he turned the gun and fired on his father. He held his father as he bleed out.[3]
Character Powers and Equipment
Powers and AbilitiesEdit
Abilities
Appearances, Images, and Quotes Edit
ReferencesEdit
Community content is available under
CC-BY-SA
unless otherwise noted.