Line 38:
Line 38:
 

His tribe's warriors attacked the weakened wizards and nearly slaughtered them until a strange naked creature appeared from a crystal ball launched a savage counterattack driving the bison out even though they outnumbered it. Seven-Scars called off the attack and retreated.<ref>{{c|The Autumnlands Vol 1 2}}</ref>

 

His tribe's warriors attacked the weakened wizards and nearly slaughtered them until a strange naked creature appeared from a crystal ball launched a savage counterattack driving the bison out even though they outnumbered it. Seven-Scars called off the attack and retreated.<ref>{{c|The Autumnlands Vol 1 2}}</ref>

 
 
 
+

He later met with [[Goodfoot (The Autumnlands)|Goodfoot]] at night for information.<ref>{{c|The Autumnlands Vol 1 3}}</ref>Through her Seven Scars learned of the identity of the stranger as Great Champion and the wizard's predicament. Though he wished to massacre the citizens if Keneil for all the humiliation the bison suffered, Goodfoot convinced him he should let some live so it will appease the Cities. He planned to kill the Great Champion, loot the city and enslave the populace to hold at ransom.<ref>{{c|The Autumnlands Vol 1 4}}</ref>

 

| Powers =

 

| Powers =

 

| Abilities =

 

| Abilities =
---
Revision as of 18:20, 24 December 2016
Seven-Scars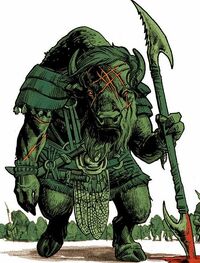 Characteristics
Status
Origin
Seven-Scars was a chieftain of a bison tribe that dwell below the city of Keneil. His tribe traded its foodstuffs in return for hastas. However on one particular day of exchange Dusty's father, extorted much of the food supplies from the bison and humiliated Seven-Scars before his tribes folk, when the chieftain refused the meager payment. Seven-Scars would then lead his tribe in the night to the ruins of Keneil for retribution.[1]
His tribe's warriors attacked the weakened wizards and nearly slaughtered them until a strange naked creature appeared from a crystal ball launched a savage counterattack driving the bison out even though they outnumbered it. Seven-Scars called off the attack and retreated.[2]
He later met with Goodfoot at night for information.[3]Through her Seven Scars learned of the identity of the stranger as Great Champion and the wizard's predicament. Though he wished to massacre the citizens if Keneil for all the humiliation the bison suffered, Goodfoot convinced him he should let some live so it will appease the Cities. He planned to kill the Great Champion, loot the city and enslave the populace to hold at ransom.[4]

Appearances, Images, and Quotes Edit
ReferencesEdit
Community content is available under
CC-BY-SA
unless otherwise noted.