Shabnam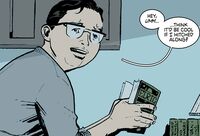 Characteristics
Status
Origin
Shabnam is the roommate of Marcus at King's Dominion Atelier of the Deadly Arts. He was saved by Marcus Arguello when being picked on in the showers.[1]
When the students would go to a party, Shabnam was left behind and viewed as the uncool student. He later reported to Master Lin on Marcus's doings and diary writings.[2]
Later, Shabnam was invited to a party with Marcus as Marcus didn't want to go alone. He told Marcus he was interested in the girl Kelly. Marcus got too drunk and ended up sleeping with Kelly instead.[3]
The next day, Shabnam approached Marcus about the incident. Marcus blew it off and pretended he didn't leave with her. Kelly suddenly appeared at their room and announced she was pregnant. Shabnam was furious with Marcus. Marcus denied the accusations and left the two as he headed out.[4]
Kill the Rats
Master Lin soon declared finals were to kill all the rats, those that had disobeyed the rules of the school. Shabnam quickly made his move and teamed up with several students who were not rats. He became the mastermind to hunt down the rats, specifically wanting Marcus dead.[5]
When his subordinate, Kendal threatened him, he quickly revealed he had been following him for weeks and had evidence about Kendal's homosexual relationship with Stephan. He revealed he was a cunning tactician and would release this info if anything happened to him. In return, he told Kendal his new task was to kill Stephen or he would release the evidence anyways.<ref.Deadly Class #18</ref>
Character Powers and Equipment
Powers and AbilitiesEdit
Abilities
Appearances, Images, and Quotes Edit
ReferencesEdit
Community content is available under
CC-BY-SA
unless otherwise noted.