Shapesmith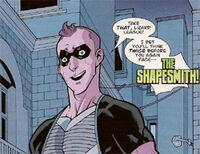 Characteristics
Status
Origin
First appearance
Appearance of Death
Shapesmith is a comic book superhero from Invincible Vol 1.
Shapesmith is a Martian, using his metamorphic abilities to disguise himself as astronaut Rus Livingston and fight crime. He has become a member of The Guardians of the Globe, mainly because Shapesmith captured Doc Seismic.[1]
Character Powers and Equipment
Powers and AbilitiesEdit
Powers
Appearances, Images, and Quotes Edit
ReferencesEdit
Community content is available under
CC-BY-SA
unless otherwise noted.