Damocles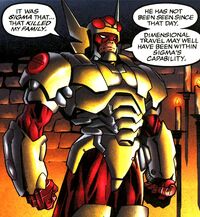 Relatives
Unnamed daughter (deceased), unnamed wife (deceased)
Characteristics
Status
Origin
Place of Birth
Alternate universe
First appearance
Appearance of Death
Damocles was once Simon Tsung, a scientist from an alternate Earth, who created a machine to steal energy from other realities and save his own. A lawman known as Sigma opposed Damocles due to the disregard it involved towards other worlds. All the energy of the machine went to Damocles, who survived thanks to his armor, but all his world perished. With the power from several Earths inside him, Damocles went on a multiversal rampage in search for Sigma, who was reincarnated in "our" Earth as Ethan McCain and raised by Damocles' own counterpart.
Character Powers and Equipment
Powers and AbilitiesEdit
Powers
Appearances, Images, and Quotes Edit
ReferencesEdit
Community content is available under
CC-BY-SA
unless otherwise noted.