Previous Issue
Next Issue
Most times being a leader is about making tough choices. Standing strong no matter what. Reminding folks there's lines that can't never be crossed. But other times... other times it's about making compromises. And sometimes, you can't tell the damn difference no more.

-- Deacon Boone


Appearing in "Homecoming part three: You're Lookin' at Country"
Featured Characters:
Supporting Characters:
Reverend (First Appearance)
Tommy (First Appearance)
Villains :
Dale Arley (Only appearance; dies)
Coach Boss (Mentioned only)
Other Characters:
Deacon Polk's Wife (First Appearance)
The Parnell Family (First Appearance)
Locations:
Items:
Vehicle:


Plot Synopsis for "Homecoming part three: You're Lookin' at Country"
Deacon Boone kills a deer in the woods with his compound bow. He prays to God for delivering him the food. He thinks about how he's always lived in Craw County. He's never been a fan of football and tends to avoids sports. The last time he was at a football game was when he was a little kid. He tends to stick to the woods as it provides everything he needs. He learned to hunt from a young age from his Dad.
He heads to his Pentecostal Church in the backwoods of Piney Woods. The Deacon speaks to the people from several scriptures. He pulls out snakes and passes them to the congregation. A small boy named Tommy fearlessly picks up the snakes to prove his worth to God and is bitten by the snake. While in excruciating pain, the boy claims to feel no pain and is willing to hold on to another snake. The entire church screams in joy.
The church heads outside and hold hands as they thank the lord for the good food bestowed upon them. They pray for help for the Parnell family and the poor, simple-minded daughter who had been taken advantage of. Boone takes off and becomes furious thinking about what happened to the girl. He feels it's obvious to know what happened to her. He grabs his bow and hunts down Dale Arley, a man known for raping mentally challenged women.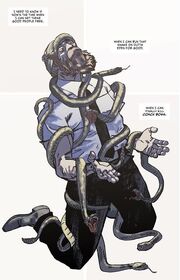 Later that night, he spots Dale driving his truck down a road. He blows out one of his tires with his bow and arrows. He waits for Dale to turn and see him as he wants him to know his maker and why he was being killed.
The next morning, Boone takes a boat out on the water. He runs into a boat of Running Rebs. The boy attempts to strong arm him into helping him steal guns from an incoming "big shipment". Boone tells him to keep moving and he won't help him. As they take off, he throws a cinder block into the river with Arley's body tied to it. It sinks to the bottom where several other bodies float with the same fate.
Boone marches back to the church. He walks directly to the serpents and covers his body in them to find they won't bite him. He knows he's completing God's work with the confidence that his serpents won't harm him. He begins to think about his next task, killing Coach Boss.


Notes
Trivia
See Also
Recommended Reading
Links and References
ReferencesEdit
Community content is available under
CC-BY-SA
unless otherwise noted.