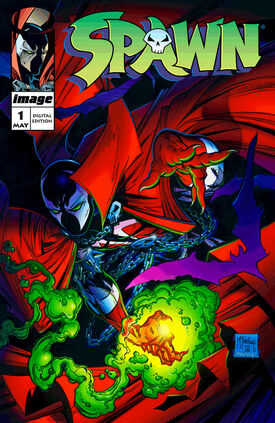 Spawn was created by writer/artist Todd McFarlane, he first appeared in Spawn #1 (May 1992).
Creation
The book began with a very superhero-like tone, much like McFarlane's previous work, but the title character evolved into a more flawed anti-hero. The current book has skewed significantly darker than early issues would suggest. McFarlane attributes this to being a necessary part of development. To introduce the book to readers it had to be slightly cleaner than he really wished it to be so that it read like a superhero tale. As the book took off and became more established he was able to alter the tone closer to his vision.
A CIA agent killed by his own boss for witnessing his corruption, Simmons was sent to hell. To see his wife one more time, he made a deal with the demon Malebolgia to become an undead "hellspawn." Spawn has tried to retain his own humanity while finding a way out of Malebolgia's control and battling a variety of enemies, both supernatural and mafia-related.
Largely due to the popularity McFarlane accumulated illustrating Marvel Comics' Spider-Man, Spawn became an instant sales sensation and perhaps the most popular comic book character owned by a third company since Marvel and DC dominated the market in the 1960s.
The series has spun-off several other comics, including Angela, Curse of the Spawn, Spawn: The Dark Ages , Sam and Twitch and the Japanese manga Shadows of Spawn. Spawn was adapted into a 1997 feature film, an HBO animated series lasting from 1997 until 1999 and a series of action figures whose unprecedented detail made McFarlane Toys a toy industry giant.
Spawn's popularity has since cooled and creators other than McFarlane have been responsible for the monthly series—a source of criticism as McFarlane and others left Marvel in the belief that creators should own and control their own characters. Still, the monthly series continues, becoming, along with Savage Dragon, one of the two original Image titles still published.
Characters
For a complete list of Spawn Characters, see our Spawn Characters Category.
The Adventures of Spawn
At the San Diego Comic Con (SDCC) '06 it was announced that a new take on the Spawn mythos was in the works. This new Spawn story is known as The Adventures of Spawn and as stated by Jon Goff, a moderator on the Spawn.com Message Board and McFarlane employee, it is a reimagining of the Spawn story that is essentially a "What If?" universe that hearkens back to classic kid-friendly Saturday morning cartoons. The story takes place in a webcomic format and has been tied into the action-figure world through McFarlane Toys' Spawn Series 30, The Adventures of Spawn which will feature Spawn X, The Redeemer, Codename: Cy-gor, OvertKill the Destroyer, Tiffany the Amazon, Omega Spawn and the Collector's Club Exclusive, Lord Mammon.
Popularity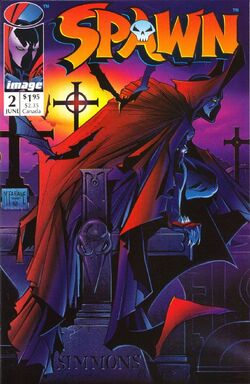 Spawn enjoyed a considerable amount of popularity in the 1990s, which was a notable feat for a non DC and non Marvel character. From 1994-95 on Spawn was very popular, and part of this was possibly due to the widespread popularity of McFarlane Toys, which expanded beyond specialty stores, and the toys were sold in major department stores as well as Toys "R" Us and KB Toys. This gave the title a boost, and brought it to the attention of both younger audiences and older toy collectors who were exposed to the toys.
When this popularity ended is impossible to place, at least in regards to any one date. In general, Spawn's popularity peaked with the 1997 Spawn feature film. The character's popularity began to slowly decline after this, until he largely dropped off the "mainstream" radar in 1998-1999. The comic book's sales have been in steady decline, though it continues to be published today. Still, figures produced by McFarlane Toys continue to remain very popular, mostly due to their tremendous detailing.
Most recently, the hype around Spawn #150 allowed the issue to sell-out very quickly as a new creative team was brought on board and fan interest in the book has again picked up, but the book is still critically panned in most circles.
Legal dispute
In 1993, McFarlane contracted Neil Gaiman (as well as other recognized authors like Frank Miller and Dave Sim) to write one issue of his Spawn series. While doing so, Gaiman introduced the characters Cogliostro, Angela, and Medieval Spawn. All three characters continued to be featured prominently in the series after Gaiman's involvement, and had many tie-ins with McFarlane's toy company. Cogliostro had a prominent role in the live-action movie in 1997. McFarlane had agreed that Gaiman was a co-creator of the characters and paid him royalties for reprints, graphic novels and action figures. After a few years he ceased the payment of royalties and gave Gaiman notice that he owned all rights to the characters, citing the copyright notice from Issue 9 and claimed that Gaiman's work had been work-for-hire and that McFarlane was the sole owner. In 2002, Gaiman filed suit against McFarlane and in response Todd counter-sued. Gaiman had partnered with Marvel Comics to form Marvels and Miracles, LLC which bankrolled the lawsuit. The main goal was to determine the issue of ownership for another character Gaiman felt he had a stake in, Miracleman, which at the time McFarlane was believed to hold a sizeable stake in after his buyout of the assets of Eclipse Comics. This issue was thrown out. Instead the court chose to rule on the breach of contract issue, the rights of ownership and the copyrightability of the characters from Issue 9. Several arguments were presented by McFarlane and all were rejected, leading to a sizeable judgement against McFarlane and Image Comics. The matter went to appeal and the judgement was upheld in a 2003 decision. Gaiman's rights as co-creator and co-owner of Cog, Angela and Medieval Spawn were acknowledged. The court's view was that Gaiman and McFarlane's collaboration led to each contributing half of the work. Gaiman wrote the story, McFarlane illustrated the character and because of this each held a 50% stake in the characters. The fallout of this lawsuit is still unclear and the issue of Miracleman is yet to be resolved. In a recent reprint collection of the first twelve issues of Spawn, the contentious issue (along with Issue 10) was excluded.
Creative teams
Writers
Artists
Guest writers
Guest artists
Comic series
Collected editions
Many issues of Spawn have been gathered together in various trade paperbacks. Collections since the mid-nineties. The original US and UK trade releases contain Issue 9, but not Issue 10 (Cerebus' appearance).
US releases
Each containing four to five issues, the original Spawn trade paperbacks started in 1995 under a different trade cover design. After the live-action 1997 movie, a new trade cover design was created, where Brent Ashe provided new covers for Books 1-7, and Ashley Wood for Books 8-12. All of these books were retitled with subtitles for later printings. The trades stopped after Book 12, but several new collections appeared in 2006–2008 that bring together writer David Hine's run, particularly the entire "Armageddon" storyline. In 2009, a new collection was released collecting part of the "Endgame" storyline, which featured the return of creator Todd McFarlane back on his flagship title with co-writer Brian Holguin and artist Whilce Portacio. The various United States Spawn collections are as follows, with included issues.
Book 1, "Beginnings", 1-5
Book 2, "Dark Discoveries", 6-9, 11
Book 3, "Book 3", 12-15
Book 4, "Book 4", 16-20
Book 5, "Death and Rebirth", 21-25
Book 6, "Pathway to Judgement", 26-30
Book 7, "Deadman's Touch", 31-34
Book 8, "Betrayal of Blood", 35-38
Book 9, "Urban Jungle", 39-42
Book 10, "Vengeance of the Dead", 43-47
Book 11, "Crossroads", 48-50 (50 is double-sized)
Book 12, "Immortality", 51-54
Spawn: The Armageddon Collection Part 1 - contains issues 150-155
Spawn: The Armageddon Collection Part 2 - contains issues 156-164
Spawn: The Complete Armageddon Collection - contains issues 150-164 (October 2007)
Spawn: New Flesh Collection - contains issues 166-169 (note: Issue #165 wasn't included because it features the story of Mandarin Spawn) (December 2007)
Spawn: Neo Noir - collects Spawn #170-175
Spawn: Endgame Volume 1 (June 2009) - collects Spawn #185-190 (ISBN 1607060701)
Spawn: Endgame Volume 2 (Nov. 2009) - reprinting Spawn #191-196
Spawn Collection
In 2005 the entire Spawn series began to appear in massive trade paperback releases under the title Spawn Collection, containing (with the exception of Volume 1) approximately twenty issues each. These began after the Gaiman lawsuit, and therefore do not contain either Issues 9 (featuring the 1st appearance of Angela and Cogliostro, both created by Neil Gaiman) or Issue 10 (featuring Dave Sim's Cerebus). Spawn Collection Volumes 1 and 2 were published in both hardcover and trade paperback formats, while with Volume 3 onward the series remained as trade paperbacks only. As of 2009, Spawn Collection Volume 1 is currently out of print, with its fourth printing released back in June 2007.
Spawn Collection Volume 1 - contains issues 1-8, 11-12
Spawn Collection Volume 2 - contains issues 13-33 (July 2007)
Spawn Collection Volume 3 - contains issues 34-54 (March 2007)
Spawn Collection Volume 4 - contains issues 55-75 (September 2007)
Spawn Collection Volume 5 - contains issues 76-95 (April 2008)
Spawn Collection Volume 6 - contains issues 96-116 (August 2008)
Spawn Collection Volume 1 was ranked 17 in the top 100 graphic novels for December 2005 period, with pre-order sales of 3,227.[2]
However, the latest Spawn Collections have been cancelled, ending with Volume 6 in 2008, with Image Comics and Todd McFarlane Productions announcing in 2009 a new format that includes softcover & hardcover versions covering varying price points, and reprinting from the early issues once again (see below).
Spawn Origins Collection
In 2009, a line of newly redesigned and reformatted trade paperbacks was announced, Spawn Origins Collection, once again going back to collecting the early issues of Spawn. These new trades will also feature new cover art by Greg Capullo, recreating classic Spawn covers. This line has now replaced the massive Spawn Collection trade paperbacks that came out from 2005-2008 (see above).
Spawn Origins Collection Volume 1 - collects issues #1-6 (May 2009)
Spawn Origins Collection Volume 2 - collects issues #7, 8, 11-14 (July 2009)
Spawn Origins Collection Volume 3 - collects issues #15-20 (December 2009)
Spawn Origins Collection Volume 4 - collects issues #21-26 (January 2010)
Spawn Origins Collection Volume 5 - collects issues #27-32 (June 2010)
Spawn Origins Collection Volume 6 - collects issues #33-38 (July 2010)
UK releases
These releases were originally published in fifteen 5-6-issue volumes in the UK by Titan Books, with titles named by religious theme. The following books contained original series issues 1-82, with the exception of the previously mentioned Issue 10.
"Creation" - contains issues 1-5
"Evolution" - contains issues 6-9 and 11
"Revelation" - contains issues 12-15
"Escalation" - contains issues 16-20
"Confrontation" - contains issues 21-25
"Retribution" - contains issues 26-30
"Transformation" - contains issues 31-36
"Abduction" - contains issues 37-42
"Sanction" - contains issues 43-48
"Damnation" - contains issues 49-53
"Corruption" - contains issues 54-58
"Devastation" - contains issues 59-64
"Termination" - contains issues 65-70
"Resurrection" - contains issues 71-76
"Ascension" - contains issues 77-82
Spin-off trade paperback collections
"Angela" - contains Neil Gaiman's "Angela" issues 1-3 and the 2005 one-shot.
"Spawn: The Undead" - collects "Spawn: The Undead' issues 1-9
"Spawn: Godslayer Collection 1" - collects "Spawn: Godslayer" 1-6
"Sam & Twitch Book 1: Udaku" - collects 1-8 of the "Sam and Twitch" spin off.
"Sam & Twitch: The Brian Michael Bendis Collection 1" - collects issues 1-9
"Sam & Twitch: The Brian Michael Bendis Collection 2" - collects issues 10-19
Curse of the Spawn
"Curse of the Spawn: Book 1: Sacrifice of the Soul" - issues 1-4
"Curse of the Spawn: Book 2: Blood and Sutures" - issues 5-8
"Curse of the Spawn: Book 3: Shades of Grey" - issues 9-11, 29
"Curse of the Spawn: Book 4: Lost Values" - issues 12-14, 22
"The Best of Curse of the Spawn" - contains issues 1-8, 12-16 and 20-29 without the coloring
ReferencesEdit
External links
Community content is available under
CC-BY-SA
unless otherwise noted.