Previous Issue
Next Issue
Appearing in "The Bridge, Part 1"
Featured Characters:
Supporting Characters:
Villains :
Other Characters:
Locations:
Japan (appears in both flashback and main story)
Items:
Vehicles:
Plot Synopsis for "The Bridge, Part 1"
In Awaji, Japan, Ben Nakadai checks into a hotel reservation. He has vivid dreams of destruction and a bridge to a peaceful land.
The next day, he sits alone in a restaurant and draws the vision. Mammon approaches him and asks to join him. When he learns he's there to smooth things out at a development site on temple grounds, he tells him the story of Lord Nakadai.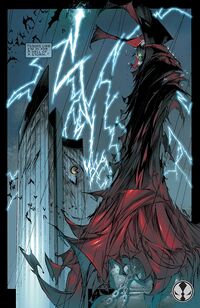 Isanagi Nakadai won a key battle for Japan and was granted becoming a Lord by the emperor. However, upon returning home he learned his wife and son had passed to fever the previous season. He was struck with grief and ignored his duties. One day, an old man convinced him to face his fears and discover what type of man he was. It would take the form of a dragon and he must look it in the eye.
He traveled the land freeing it's people of bandits. One day, he encountered a boy standing on a bridge. When he approached, the child disappeared. He followed the voice through the jungle until he stumbled upon his dragon. After defeating it in battle, he realized he failed to look it in the eyes and failed his mission.
He returned home to find his land in ruin. One lone man sat on his throne.
Suddenly, Ben is interrupted to be informed by concierge he has a call waiting. As he excuses himself, Mammon warns him not to make the mistake his ancestors made, he must face his fears.
In his room, Ben takes a call from his wife and continues to draw the bridge from his dream.


Notes
Trivia
See Also
Recommended Reading
Links and References
ReferencesEdit
Community content is available under
CC-BY-SA
unless otherwise noted.