Previous Issue
Next Issue
The costume lives. Again.

-- Spawn


Appearing in "The Homecoming"
Featured Characters:
Supporting Characters:
Villains:
Other Characters:
Locations:
Items:
Vehicles:
Plot Synopsis for "The Homecoming"
Spawn finally returns to New York City. He surprises some of his homeless friends who were beginning to wonder where he was. Boots and Bobby tell Spawn they are loyal but others are talking that it's only dangerous in alleys when Spawn is present. Spawn tells them he's sticking around and notices The Curse is missing. The bums tell Spawn he escaped and took off.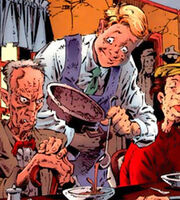 Rafael makes a call to Angel Station One. They are preparing for another Redeemer to be created. They see three potential targets, two of which are weak, all in New York City.
Terry Fitzgerald attempts to hack CIA data on Jason Wynn to find out why he wanted him dead earlier. After his attempts are shut down for lack of clearance, he begins to consider joining Wynn's team to get the clearance.
Phil Timper was a man who was in and out of prison. It was only 11 years ago he found the lord and changed his ways to be a perfect citizen. He is suddenly teleported to Angel Station and imbued with Elemental Fire to become the next Redeemer.
Sam Burke begins his diet and working out routine to lose weight. He smiles as he thinks about his anonymous message to Chief Banks is letting him know someone is on to him about Kincaid and the senator's daughter being murdered.
Spawn's costume suddenly pulls him down alleys. He find the Redeemer teleporting Bobby to Orbital Station One. The Redeemer remarks how he's surprised the hellspawn gave Bobby energy[1] and that's why he must have detected him as one of the faint signals. When Spawn attempts to stop the Redeemer, he is easily knocked back and the Redeemer teleports away with Bobby.
After being knocked out for several hours, Spawn's costume comes back to life and is spiked out and ready for battle.


Solicit Synopsis
Spawn had finally made his way back to his home of New York and reclaims his throne. He is happily welcomed by the homeless that occupy his allies. Meanwhile, Heaven has selected a new Redeemer (Phil Timper), this one is pure of heart, and therefore more powerful, and invades spawns alley. Spawn attempts to take down the Redeemer, but Spawn is easily defeated. The Redeemer leaves spawn, easily defeated, and his ravaged armor momentarily shuts down. The Redeemer then teleports himself away with Bobby, the bum that Spawn brought back to life. However, Spawns costume resurrects itself, and evolves to meet this new challenge . . .


Notes
This issue was dedicated to Tom Palmer.
Trivia
See Also
Recommended Reading
Links and References
ReferencesEdit
References
ReferencesEdit
Community content is available under
CC-BY-SA
unless otherwise noted.