Previous Issue
Next Issue
Appearing in "Bloodstains"
Featured Characters:
Supporting Characters:
Villains:
Other Characters:
Immaculata (corpse)
Ronny "Whistler" Entwhistle (corpse)
Locations:
Items:
Vehicles:
Plot Synopsis for "Bloodstains"
At the hospital, Sam Burke curses himself for letting his friend, Twitch Williams get shot. He blames himself for putting him in danger and can't even bare to look at his heartbroken wife. He exclaims out loud that he would do anything to save his friend. Suddenly, in the shadows he spots Spawn. Spawn walks in and asks if he means it that he would do anything. Sam pleads yes. Spawn uses his magic to heal Twitch. He tells him he'll be fine the next day and that their souls both belong to him now. As Spawn leaves, Sam can't even begin to understand what he has just done.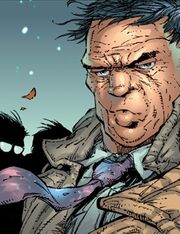 The next day, Sam returns to the hospital and finds Twitch better as promised. The doctor introduces herself to Sam as Sarah Frost. She tells him she runs an outreach program.
Sam falls asleep. When he wakes up on a newspaper he finds written orders from Spawn to stop the homeless murders.
The News recalls the recent string of homeless murders.
Sam heads to the morgue. He is down the guy who shoot at them and finds a suspicious mark behind the man's ear. Spawn listens from the shadows of the morgue.
Spawn heads back to the Hellspawn Archives. Cogliostro helps interpret the strange mark from the morgue. It was brought back by the Order of the Templar Knights.
Spawn heads to Sam's office and asks if they've found out who is killing the homeless. They review the letters left by the killer and he has misspelled easy words, but correctly spelled more advanced words. Twitch believes it was on purpose based on the strike patterns of the manually type letter. Suddenly, Sam receives a call that a fifth victim has been found.


Notes
Trivia
See Also
Recommended Reading
Links and References
ReferencesEdit
Community content is available under
CC-BY-SA
unless otherwise noted.