Previous Issue
Next Issue
Appearing in "Seasons of Change"
Featured Characters:
Supporting Characters:
Villains:
Seth (Only appearance; dies)
Other Characters:
Locations:
High-power meeting location
Items:
Vehicles:
Plot Synopsis for "Seasons of Change"
Mary sits in her room and waits her punishment from her step-dad, Seth. Mary recalls playing with her doll and knocking over the TV antenna. Seth is obsessed with the TV and sent her to her room for three days to prepare for 'her punishment.' Outside, Spawn watches.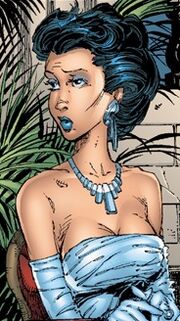 Elsewhere, Cogliostro meets angel Epiphani and they are both shocked when lord Mammon appears at the event. Neither expected him to arrive at such a lowly meeting and instead where thinking a delegate would have come. They speak about the missing Hellspawn, Al, and the delicate balance at play. Mammon wants him back to Hell but Epiphani pleads his soul's fate has not been determined yet.
Spawn sneaks in to Mary's home and attacks Seth for harming a child.
Mammon orders Cogliostro to deliver Spawn of he will no longer be under his protection. Cog flippantly refuses to cooperate and leaves.
Sam Burke and Twitch Williams appear at the crime scene. They find Seth impaled with TV antennas. Sam declares it an accident even though he knows it was Spawn who was responsible. They continue to protect him as his guardians.


Notes
This issue is dedicated to Max Spielberg.
Trivia
See Also
Write your own review of this comic!
Recommended Reading
Links and References
ReferencesEdit