Squire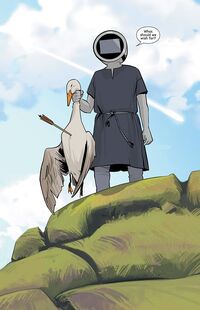 Characteristics
Origin
Squire was born of nobility but found himself growing up nothing more than a squire. It is implied that after his father - Prince Robot IV - eventually dies, he will inherit this name.
Origin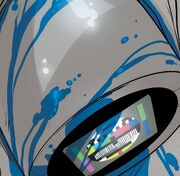 His mother was murdered shortly after his birth by a robot named Dengo, in retribution for the nobility's oppressive rule of the colorless robot class. Dengo then took the princeling with him as leverage to force the Robot Kingdom to renounce their oppressive ways.[1]
The Princeling was taken across the galaxy to Gardenia to help Dengo broadcast his message to the world.[2] He eventually fell into the Last Revolution's hands when Dengo attempted to make a deal with them. When his father, Prince Robot IV, tracked them down he instantly murdered Dengo and retrieved his son once more.[3]
Years passed and Squire was raised on Quietus.[4]
Soon, Marko and Alana arrived. They convinced Sir Robot to help them break into the prison to save their daughter on Landfall. The Prince didn't want to leave his son unprotected but they threatened to reveal their location to King Robot if the Prince refused to help them.[5]

Appearances, Images, and Quotes Edit
ReferencesEdit
Community content is available under
CC-BY-SA
unless otherwise noted.