Supreme Leader Cho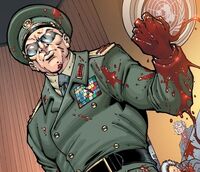 Current Alias
Supreme Leader Cho
Relatives
Father (deceased)
Characteristics
Unusual Features
Glowing pink eyes
Status
Occupation
Dictator of North Korea
Origin
First appearance
Appearance of Death
Cho was born in North Korea. After his father died, he would assume his position as dictator. He would meet Set with him asking for Cho's help. He tells him that his father disappointed him and not make the same mistake [1] Following events, he would use Set's technology to give himself superpowers. He would make a demonstration by killing a South Korean diplomat in at U.N. meeting. He would declare himself ruler of the world and declare all governments abolished. Amanda, Black Samson, and Franscisco Vasquez would charge towards him. He would punch Amanda multiple times with such a speed, that he wouldn't be able to be detected with the human eye. He would knock back Black Samson as well and briefly battle The Immortal. He throws Immortal halfway into a glacier and heads back to New York. He would fight Zandale Randolph and easily defeat him. Next, He would battle Brit and sees that he is unable to harm him. Cecil Stedman jumps through the teleportation portal and the world surrenders. He takes him through a room with many beautiful women. However, it was deception and he was crushing Cho with intensified gravity. The machine kills Cho after crushing his body to mush. [2]
Character Powers and Equipment
Powers and AbilitiesEdit
Powers
Abilities
Appearances, Images, and Quotes Edit
ReferencesEdit
Community content is available under
CC-BY-SA
unless otherwise noted.