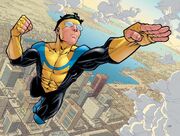 Robert Kirkman starting working on Invincible as a parody. It was meant to be a deconstruction of the superhero genre. Even the character names like "Rex Splode" and "Robot" are meant to be tongue-in-cheek of the classic superhero play on words. It has since blossomed into a story on it's own with characters that are unique and complex. The series has run for more than a decade which is rare for an independent creation. Knowing where to start can be difficult so the following guidelines have been given with the hopes of helping new readers know where to start.
Starting Points
Having run for 15 years and over 140 issues, jumping onto Invincible can be a daunting endeavor! We at the Image Comics Database recommend the following starting, jump-on, and modern start points for new readers:
Best Single Issue Reads
Are you a fan of Invincible and want to witness some of his greatest stories? Have you read most of the series already and want to go back to some highlights? Are you just a fan of superhero and gory comics? We recommend the single issues below (based on professional opinion), and the major Invincible events below that!
Important Events
Recommended Reading Order
Community content is available under
CC-BY-SA
unless otherwise noted.