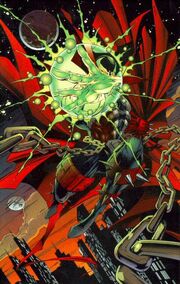 Spawn is the second-longest running, independent comic book. The creator, Todd McFarlane, has commented that he doesn't plan on stopping until it is the longest run independent comic book (301+ issues to beat Dave Sims).[1] While many of the issues had featured legendary artist, Greg Capullo at the helm, the reigns have recently been passed on to Jonboy Meyers who has taken hold for a new, edgier and aggressive Spawn.
As the cornerstone for what launched Image Comics to the status it is today, knowing where to start with Spawn can be daunting. The below list is an attempt to help readers know where to start.
Starting Points
Having run for a long time, jumping onto Spawn can be a difficult endeavor. While you can pick up and start reading, it's not uncommon for some threads to go unanswered for 30-50 issues! That's an incredibly long time, but can also be incredible rewarding for those sitting along for the journey.
Best Single Issue Reads
Important Events
Recommended Reading
ReferencesEdit
Community content is available under
CC-BY-SA
unless otherwise noted.