Thea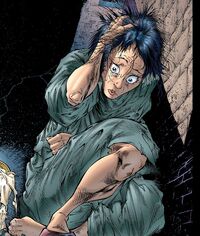 Characteristics
Status
Origin
Thea recalls when her curse started. She was at a funeral and her hands started bleeding. When an older woman came to check if she was alright, Thea had a vision that the woman would be the next to die. She saw the woman as a corpse instead of herself. She then passed out from the sight.
Later in life, Thea became addicted to drugs and begged for money. She saw a man on the street and once again saw he was about to die. A car pulled up and performed a drive-by shooting, killing the man. Thea's hands started bleeding again. She panicked and ran out into the alley where she puked a black material that became spawn. Terrified at the sight, she ran away into incoming traffic.
Thea was rushed to the hospital. As she recovered, she yelled out at Spawn and asked why he was haunting her.
Soon, Mammon asked if they really need to look at the result of the coin flip. She agreed to go with him into the afterlife. At the last second, Mammon whispered into her ear that she wasn't being haunted by Spawn, but that he was really there to help.[1]
Character Powers and Equipment
Powers and AbilitiesEdit
Weaknesses
Appearances, Images, and Quotes Edit
ReferencesEdit
Community content is available under
CC-BY-SA
unless otherwise noted.