Thumb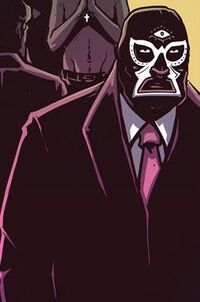 Characteristics
Status
Occupation
Drug Trafficker
Origin
The Thumb is the most powerful drug trafficker in Dedande City. He paid Fishmen to traffic drugs through the swamp and occasionally paid them in human flesh.[1]
He had a Teleshaman under his control and ordered him around for years. When Clay captured footage of the Thumb's illegal activities, he sent the Teleshaman to kill him, but witness Clay killing the Teleshaman and escaping.[2]
Later, a drumline was sent to retrieve Clay and bring him to the Thumb. When Clay woke up, he found himself in a pit, fighting for his life. The Thumb unleashed an alligator and Clay was able to divert its attention to the crowd. The Thumb had to stop the alligator and was furious at Clay. He knocked Clay out and had him tied up and placed in a room.[3]

Appearances, Images, and Quotes Edit
ReferencesEdit
Community content is available under
CC-BY-SA
unless otherwise noted.