Tim-22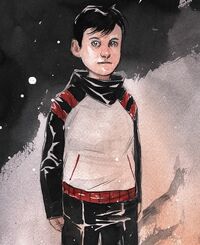 Characteristics
Status
Occupation
Companion Robot
Origin
Tim-22 is a member of the Hardwire group, a rebel group of robots. They burst into a room in order to free Tim-21 from the Gnishians.[1] Tim-21 refused to go with the Hardwire unless they agreed to bring Jin and Telsa with them. As they desperately wanted Tim-21, they agreed to his demands and took Jin and Telsa with them as they escaped from the planet. However, Psius, the leader of the Hardwire group, ordered Tim-22 to execute King S'Nok as a message from the rebellion before they left. Tim used an energy pulse from his hand to explode the king's head. As they escaped on a ship, Telsa made remarks about Tim-22's cold nature and lack of feelings when compared to Tim-21.[2]
Over the next few days, 22 showed 21 various violent video games and spent time with 21. The two found they were different and 22 had a different emotional spectrum than 21.[3]
Tim was soon brought to Psius and had his memory analyzed for dream patterns. Psius wanted to find an afterlife for robots. When Tim-22 became impatient, Psius allowed 22 to take Tim-21 to the inner core. Upon arriving, Tim 22 admitted he felt 'jealousy' as a feeling. He then pushed Tim-21 into an abyss where it was revealed the robots were building a secret army of warrior robots.[4]
Character Powers and Equipment
Powers and AbilitiesEdit
Powers
Appearances, Images, and Quotes Edit
ReferencesEdit
Community content is available under
CC-BY-SA
unless otherwise noted.