Titan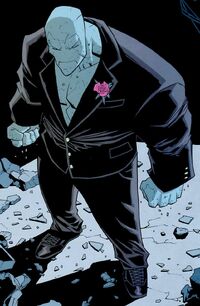 Characteristics
Unusual Features
In transformation, body covered in rock.
Status
Origin
Early villainy
Titan was a supervillain who was robbing a jewelry store, when he was stopped by the super-powered Mark Grayson.[1]
Later, after Mark donned his costume, fought his father, and stopped an alien invasion, Titan tried to help out with the clean-up, but was attacked by Invincible who mistakenly assumed that Titan was going to cause trouble. After the misunderstanding was cleared up, Titan helped Invincible and Atom Eve.
Titan later reveals that he is a thug who formerly worked for Machine Head. He then helped Invincible defeat Machine Head, but secretly took control of the crime organization.
Character Powers and Equipment
Powers and AbilitiesEdit
Powers
Abilities
Leadership: He possess above average control of organized crime, with enough skill to both not run it into the ground and to hide it effectively.
Hand-to-Hand Combat: As a fighter, he posses moderate skill in hand to hand combat.
Strength level
10+ range on par with lower superhumans.
Weaknesses
Despite his great strength he is nowhere near the level of Invincible, easily being beaten in physical confrontation time and time again. He is also very greedy, arrogant and overconfident leading to his defeat due to his inability to learn from his losses or learn from his mistakes.

ParaphernaliaEdit
Equipment
Whatever the criminal organization he owns has at his disposal.
Transportation
Whatever the criminal organization he owns has at his disposal.
Weapons
Mostly his own fists
Appearances, Images, and Quotes Edit
ReferencesEdit
Community content is available under
CC-BY-SA
unless otherwise noted.