The Crocodile Killer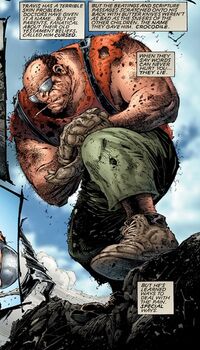 Current Alias
The Crocodile Killer
Characteristics
Origin
First appearance
Appearance of Death
Travis Quinn, also known as the Crocodile Killer, was a deranged serial killer. His nickname came from the skin disease that he suffered from. He was teased at school as a small boy and called, "Crocodile." He was also beaten at home by fanatically religious parents which led to his psychopathic nature to kill others.
As an adult, he became a successful serial killer and got away with 22 murders. When he was about to kill his 23rd victim, Suture suddenly arrived. Suture was the serial killer of serial killers and ended his life.[1]
Character Powers and Equipment
Powers and AbilitiesEdit
Weaknesses
Appearances, Images, and Quotes Edit
ReferencesEdit
Community content is available under
CC-BY-SA
unless otherwise noted.