Universa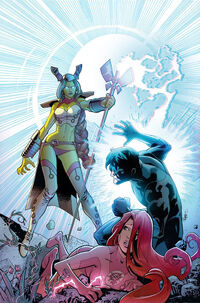 Characteristics
Unusual Features
Green Skin, Glowing Eyes when wielding Staff Of Leadership
Origin
Origin
Not much is known about Universa's origin other than she was born on a planet far from Earth's star system.
Arrival on Earth
Universa arrived onto Earth in order to steal energy from the planet to save hers. She headed to a power plant to siphon nuclear energy but was stopped by Invincible and Atom Eve. She funnels enough energy into Mark, knocking him out. Mark grabs her staff but gets shocked by it. She walks up to Mark until Eve punches her, making Universa unconscious. She is taken into custody and taken to Stronghold prison. Mark would go to visit her after changing his style of fighting. Mark attempts to talk with Universa, but she is angered by seeing him again. Mark demands her to let him speak and Mark reveals that he is attempting to negotiate with the warden into letting Universa go. Mark offers her a solution and she takes it. Universa would take nuclear energy and store it into her staff until her planet can find a permanent solution. She thanks Mark and leaves, hoping to repay him for his kindness.
Character Powers and Equipment
Appearances, Images, and Quotes Edit
ReferencesEdit
Community content is available under
CC-BY-SA
unless otherwise noted.