Ursaal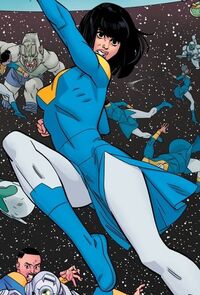 Characteristics
Unusual Features
Formely purple skin
History of character is unknown.
Character Powers and Equipment
Powers and AbilitiesEdit
Powers
Weaknesses
Vulnerable Ears: When a Viltrumite's equilibrium in their ears is disturbed, mainly by frequency, it can cause extreme pain and may even possibly kill them. Depending on how strong the frequency is determines that pain of attack.
Appearances, Images, and Quotes Edit
ReferencesEdit
[[Category:
Invincible
Characters]]
Community content is available under
CC-BY-SA
unless otherwise noted.