Vacillator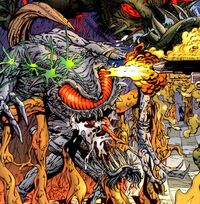 Characteristics
Origin
Vacillator is one of the five famous Phlebiac Brothers. While the Vacillator is the smallest of the group, he is just as dangerous with his demonic powers. He is irked by having only one eye. He is known as being the "indecisive" one of the brothers
Character Powers and Equipment
Powers and AbilitiesEdit
Powers
Appearances, Images, and Quotes Edit
Vacillator's dialogue is always shown in 'pink' word bubbles.
Phlebiac Trivia: The Phlebiac's personalities are each based on their names.

Vacillator: Can never make up his mind and always vacillates between options.
Vandalizer: Is the bull-headed one who charges ahead and uses brute physical force to vandalize his opponents.
Vaporizer: Always vaporizes his opponents by swallowing them whole as opposed to toying with them like the rest of the Bhlebiac brothers.
Vindicator: Likes to rescue people by saving Billy Kincaid in hell and votes to save Violator in his human form when he was in danger.
Violator: Like to murder and violate people by violating their bodies and ripping our their hearts.

ReferencesEdit
Community content is available under
CC-BY-SA
unless otherwise noted.