Vaporizer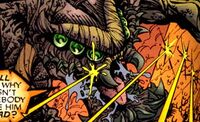 Characteristics
Origin
Vaporizer is the largest of the five Phlebiac Brothers. He is able to swallow a full sized man whole.[1] He has six green eyes and two large spikes on his back similar to Violator's. Vaporizer is also the dumbest of the brothers but is still a mighty foe.
Character Powers and Equipment
Powers and AbilitiesEdit
Powers
Appearances, Images, and Quotes Edit
Vaporizer's speech bubbles are always a yellowish-brown tint
Phlebiac Trivia: The Phlebiac's personalities are each based on their names.

Vacillator: Can never make up his mind and always vacillates between options.
Vandalizer: Is the bull-headed one who charges ahead and uses brute physical force to vandalize his opponents.
Vaporizer: Always vaporizes his opponents by swallowing them whole as opposed to toying with them like the rest of the Bhlebiac brothers.
Vindicator: Likes to rescue people by saving Billy Kincaid in hell and votes to save Violator in his human form when he was in danger.
Violator: Like to murder and violate people by violating their bodies and ripping our their hearts.

ReferencesEdit
Community content is available under
CC-BY-SA
unless otherwise noted.