Vaughan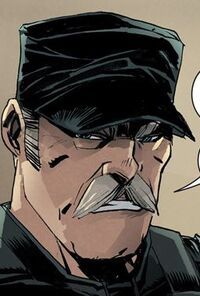 Characteristics
Status
Origin
First appearance
Appearance of Death
Oficer Vaughan works for the Federal Bureau of Investigation. He was at their headquarters in Atlanta when Daniel Castle was brought in as the primary suspect as the Devil Killer.[1]
He secretly followed Daniel when he was released from FBI interrogation. He tracked him to a trailer park where another victim was murdered when Daniel tripped a trap that set another Buckaroo man on fire. Vaughan quickly moved in and shot Daniel in the head. He expected gratitude from the group, but Finch and Barker weren't sure whether Daniel truly killed the man on purpose.[2]
Later, Vaughan received awards from the city for taking out the Devil Killer. However, Barker and Finch didn't believe the story and instead took the time to break into Vaughan's house and search for dirt. They found a knife that implicated Vaughan to be the Devil Killer. Suddenly, Vaughan returned home and attacked Finch and Barker for discovering his secret. Vaughan revealed he had been re-programmed by The Master and was killing the vagabonds escaping from Buckaroo. Barker revealed the building was surrounded by the police and it was over for Vaughan. Instead of being taking alive, Vaughan threw himself out the window and killed himself.[3]

Appearances, Images, and Quotes Edit
ReferencesEdit
Community content is available under
CC-BY-SA
unless otherwise noted.