Zeek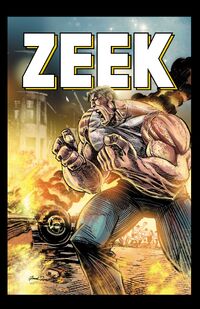 Relatives
Atlas (ancestor)
Characteristics
Unusual Features
Incredible muscle mass, his stature impresses both gods and mortals.
Status
Origin
Origin
Son of the god of strength Atlas.
Zeek is the son of Atlas, the god of strength. Originally Zeek was recruited by a group of criminals who took advantage of his docile nature, this led him to clash with Dragon but with the help of the latter he realized that he had been deceived and therefore decided to abandon his criminal career.
Some time later, Zeek was recruited into the Special Operations Strikeforce in which he remained for a few years.
More recently Zeek moved to the Hidden City of God Town after meeting his father but when the gods decided to cancel their vow of non-interference with mortals Zeek resumed visiting the mortal world.
Character Powers and Equipment
Powers and AbilitiesEdit
Powers
Divine Empowerment: Being the descendant of the God of strength Zeek possesses capacities well beyond mortals and many superhumans.
Abilities
Strength level
Class 100+
Weaknesses
Diminished Intellect: Zeek appears to be suffering from some form of mental retardation and demonstrates the intelligence and naivety of a child. Zeek also struggles to express himself and tends to get angry easily.
Appearances, Images, and Quotes Edit
ReferencesEdit
Community content is available under
CC-BY-SA
unless otherwise noted.