Zem Gotir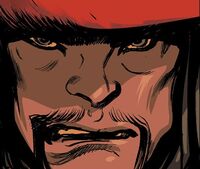 Relatives
Wife (deceased), Son (deceased)
Characteristics
Status
Origin
Zem Gotir once served in Roln's army. He grew a gambling addiction and eventually needed to sell his family into slavery to pay his debts.[1]
He fought side-by-side with Marik Caine in the tank until he earned his freedom by escaping. Unfortunately his friend Marik died in the process but not before teaching him to always be positive.[2] Zem traveled with Stel Caine, Marik's mother, and promised to bring her to the surface to honor Marik's death.[1] When they arrived at Misalt to recharge their supplies, they found themselves attacked by Mertali's people, the Bloodsuckers. Mertali fought to free Stel from their hypnotic gaze and brought her back to the ship to escape the town. Zem had refilled their supplies right as they returned. When they were swarmed by attackers, Zem attempted to sacrifice himself as payment for what Marik did to save his life. However, Stel - with a renewed optimism - steered the ships flames over his attackers allowing him to enter the ship and escape. They headed back to the surface to find the landed probe.[3]
Character Powers and Equipment
Powers and AbilitiesEdit
Abilities
Appearances, Images, and Quotes Edit
ReferencesEdit
Community content is available under
CC-BY-SA
unless otherwise noted.